Bb Scene / String Swing Session ft. Cornelius
02 aug. kl 08:00 - kl 17:00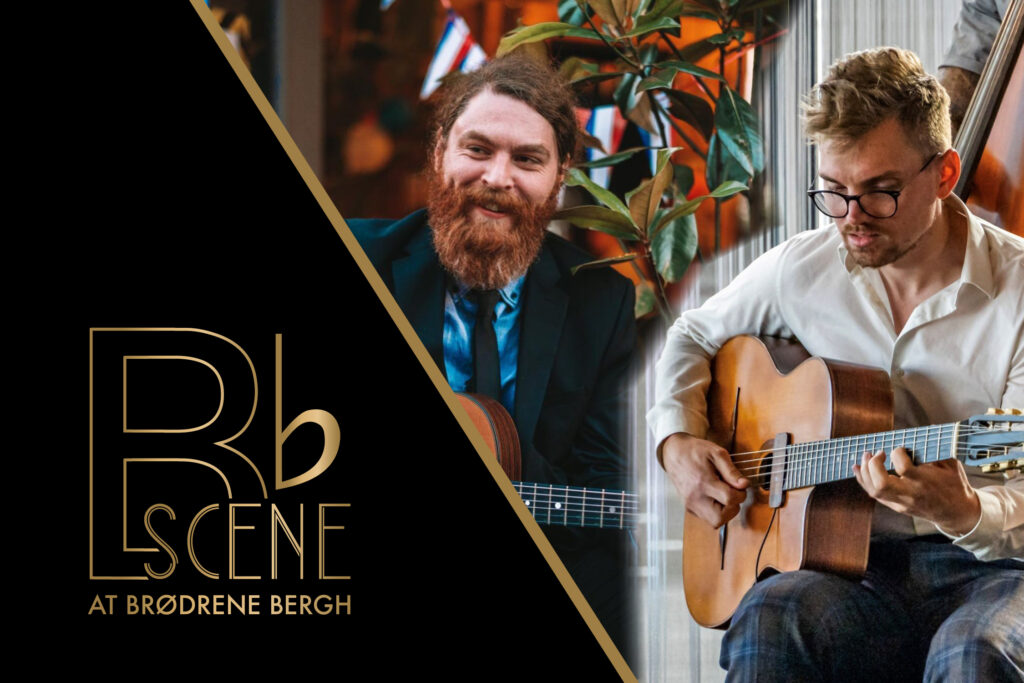 Detaljer
02 aug. kl 08:00 - kl 17:00
Welcome to our Bergstrøm/Corkery Django Session!
Cornelius Corkery is a self-taught English guitarist whose style is heavily rooted in the tradition of the great Django Reinhardt, enriched with his own unique musical innovations. Cornelius has performed at festivals across the UK and abroad including Burton Agnes Jazz Festival and Cork Jazz Festival. A regular on the London scene, he has performed at Ronnie Scotts, Crazy Coqs, Toulouse Lautrec jazz club, as well as running the jam session at London's home of gypsy jazz «Le Quecumbar». Check out his podcast 'Gypsy Jazz Hangouts' as well as his debut album 'Stop Motion Music' featuring original compositions as well as tunes by the likes of Django Reinhardt and Erik Satie.
Johan Tobias Bergstrøm has made a name for himself as guitarist and musician in Norway, and is responsible for extended tours and concert series with the band Touché Monet. He has featured as composer and musician on 4 albums released on the honorable record label Hot Club Records. Bergstrøm is also a member of one of the most active jazz groups in Oslo; Simple Jonny's Easy Jazzband, who has played over 300 concerts since its inception in 2017. Johan Tobias Bergstrøm is educated at the Department of Musicology at the University of Oslo, and has been working as a musician for over a decade.
At Brødrene Bergh, Johan Tobias Bergstrøm and Cornelius Corkery, has put together a quartet with violinist Jørgen Krøger Mathisen and bassist/vocalist Johan Ohlanders. In addition to String Swing and Django Reinhardt-Jazz, the concert will also feature some musical inspiration from the Middle East.
Bergstrøm/Corkery Django Session line-up:
Johan Tobias Bergstrøm – Gitar
Cornelius Corkery – Gitar
Johan Ohlanders – Bass/Vocals
Jørgen Krøger Mathisen – Violin
Instagram:
@corneilusjcorkery
@tobiasbergstrm
Konserten er helt GRATIS, bare bli med! Kl. 21:30 – til sent.
Om konseptet Bb Scene:
På Bb Scene ønsker vi å tilgjengeliggjøre live Jazzmusikk som folk flest gledes av. Vi plukker musikere fra den norske Jazz diasporan og lar de fremføre det de brenner for. I et lokale der musikk, dans og drikk møtes og skaper et, for oslo, unikt atmosfære.
På Bb Scene skaper vi et rom der Django Reinhardt, Jelly Roll Morton, Fats Waller og Louie Armstrong hade gledet seg til å opptre, en av de beste plassene til å oppleve jazz i Oslo!
Spørsmål eller spesielle forespørsler? Ta kontakt: brodrenebergh@resthon.no. Følg oss på sosiale media for å holde deg oppdatert! Facebook / Instagram.